160

sqm area

160

Row seats

78

Parliamentary seats

32

U-shape seats
120

sqm area

165

Row seats

60

Parliamentary seats

26

U-shape seats
EQUIPMENT HIGHLIGHTS.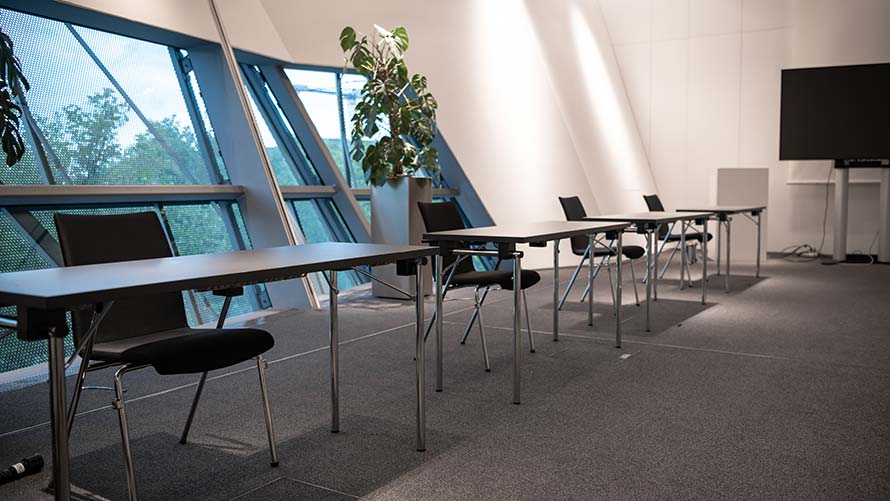 All-inclusive Stress-free Services
Conference rooms can be divided
Access to indoor and outdoor terrace
Fixed loudspeakers and mixing console
Wireless radio microphones
Door displays with video technology
HD beamer, electrically movable screens
Lightproof curtains, electrically movable
Manually operated partition walls
Mobile stage elements can be used
OUR SERVICES FOR YOUR EVENT.
STAGECRAFT.
If required, use mobile stage units for your event, as the rooms do not have any permanently installed.
AUDIO TECHNOLOGY.
In the rooms of the Business Center at your disposal are built-in loudspeakers and mixing consoles. Wireless radio microphones with handheld and pocket transmitters are available for communication.
VIDEO TECHNOLOGY.
Impress your guests with on-screen displays and useful information about the event on the doors. Mounted HD projectors in the ceiling are available. The screens can be retracted and extended electrically.
FURNITURE AND EQUIPMENT.
Create a pleasant atmosphere for your guests: our specialists will build a complete layout where you can work effectively. Access a pool of movable furniture and set up the location exactly according to your expectations.
CATERING FOR RELAXED ENJOYMENT.