VISIONS THAT GO BEYOND THE SCOPE.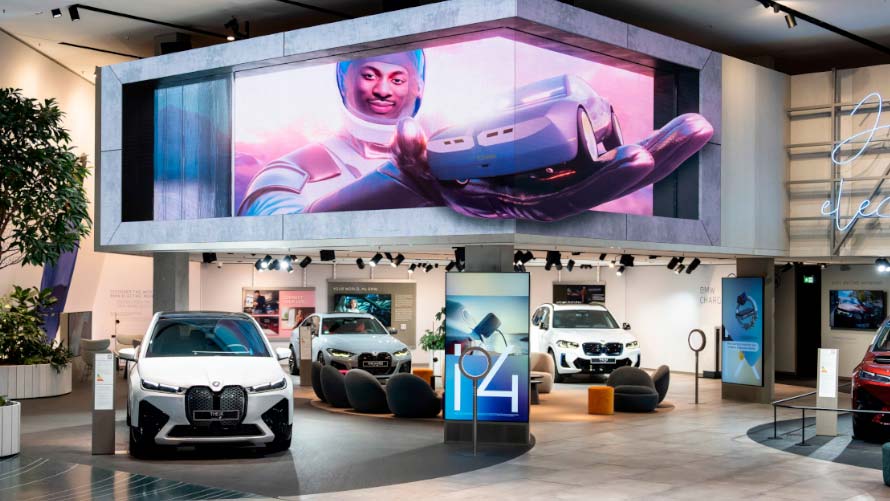 Thanks to pioneering 3D technology, the one-of-a-kind media display in the BMW i exhibition area lets you dive into virtual worlds. Get close enough to touch the BMW i Vision Circular or the BMW iX 1 in mesmerising movie clips.
Read more
WELCOME TO THE WORLD OF BMW i.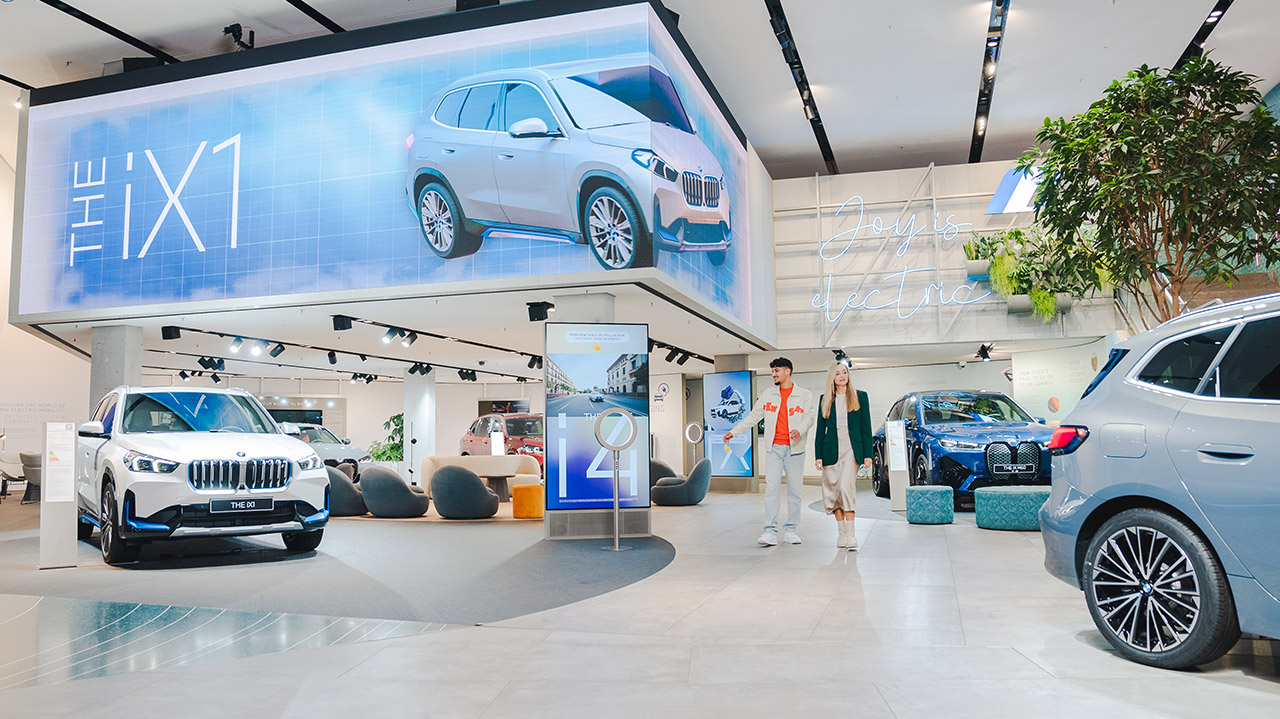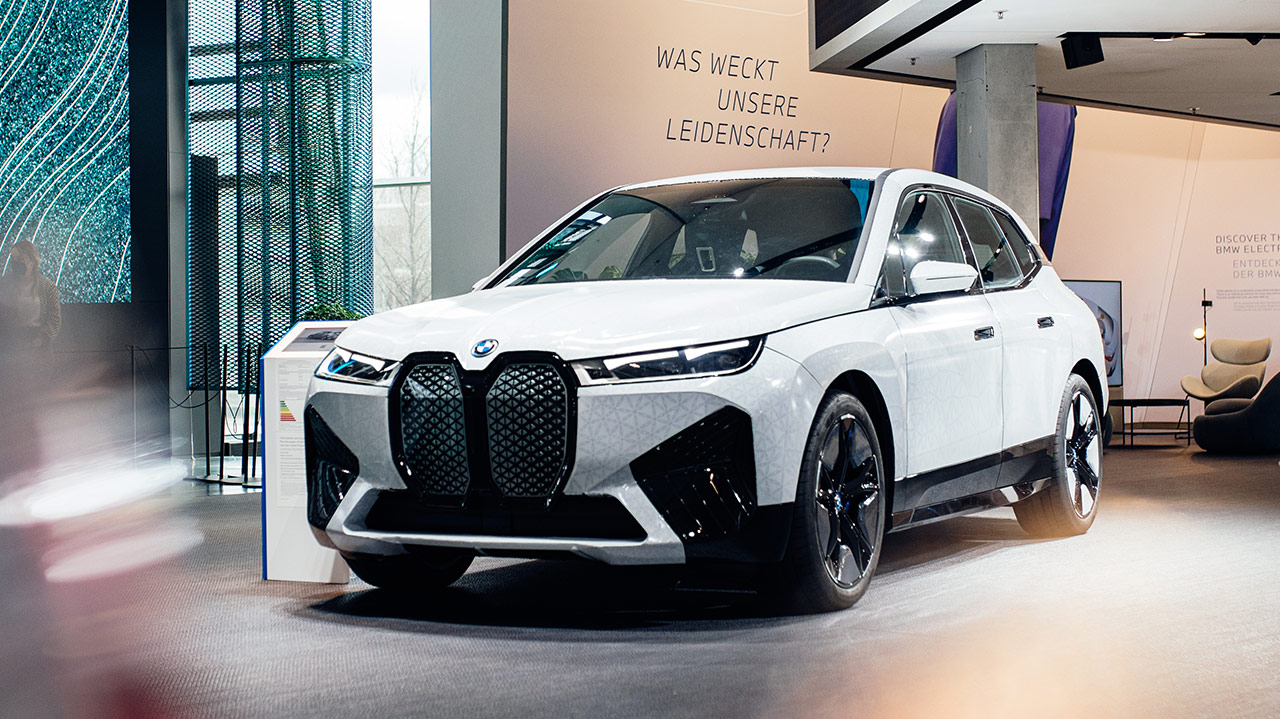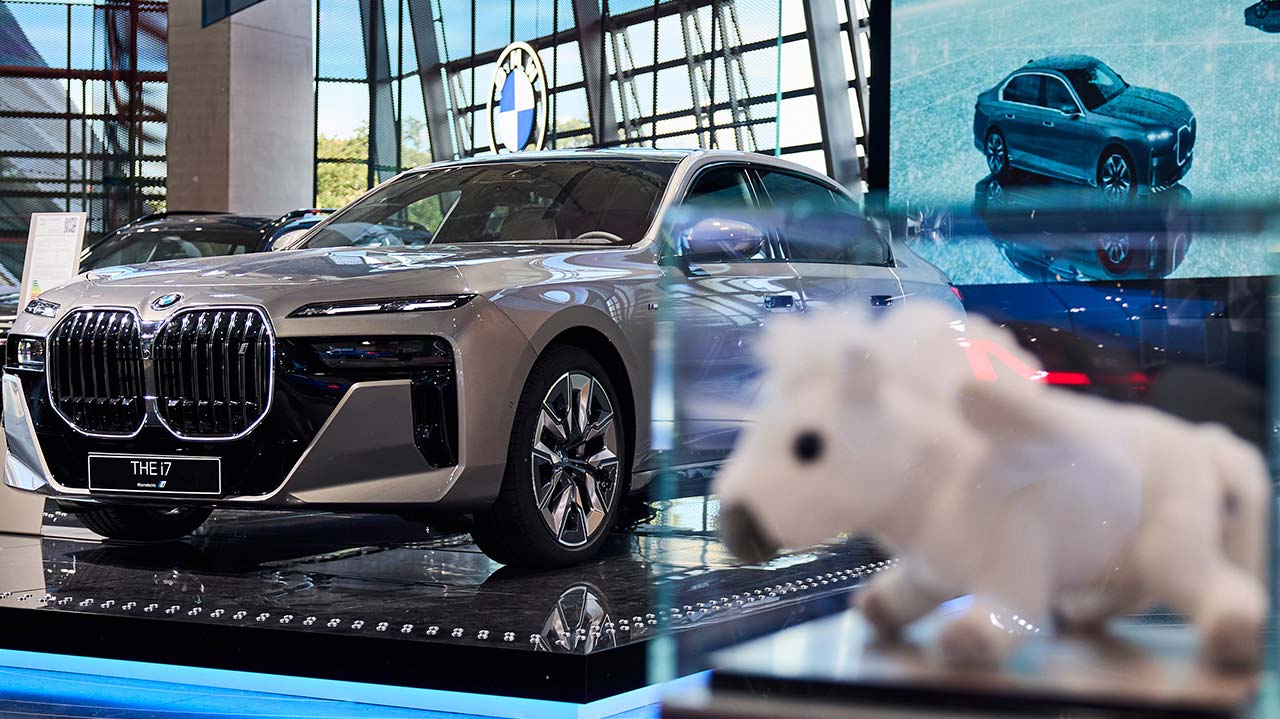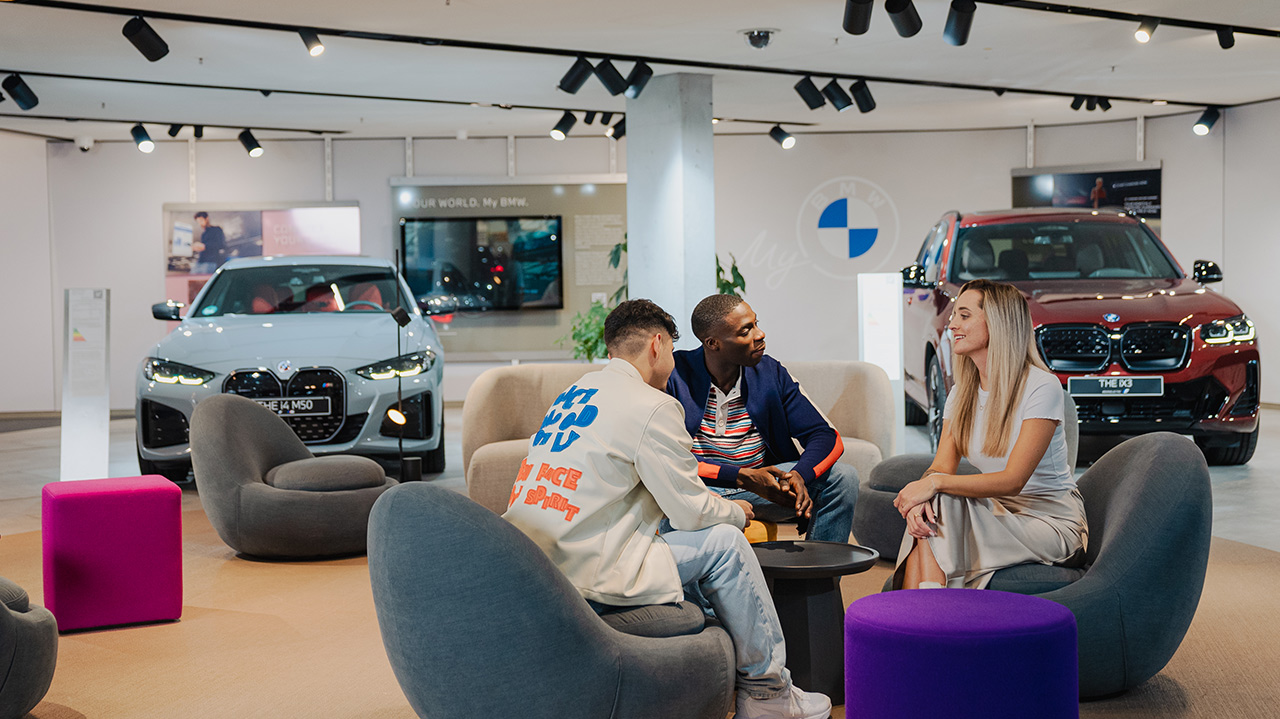 EXHIBIT MODELS.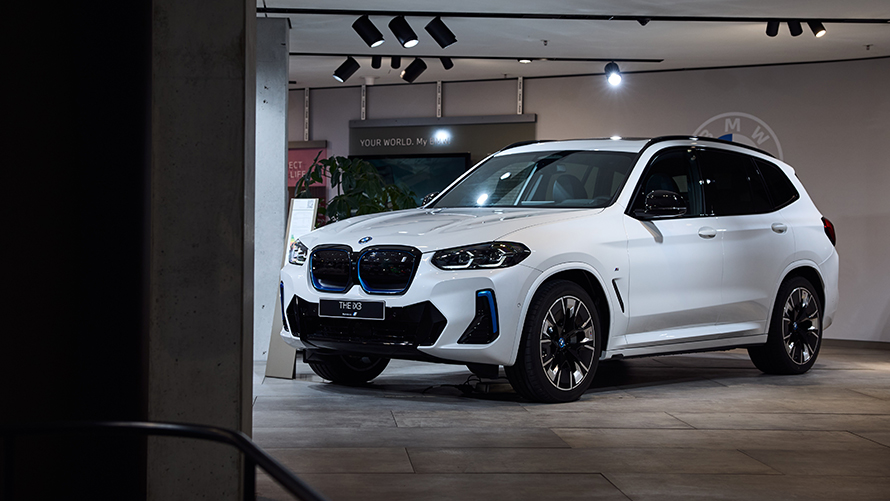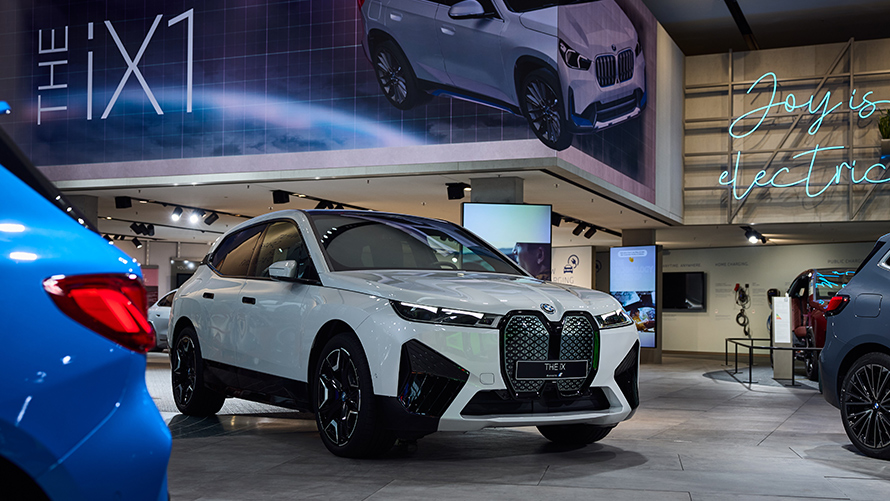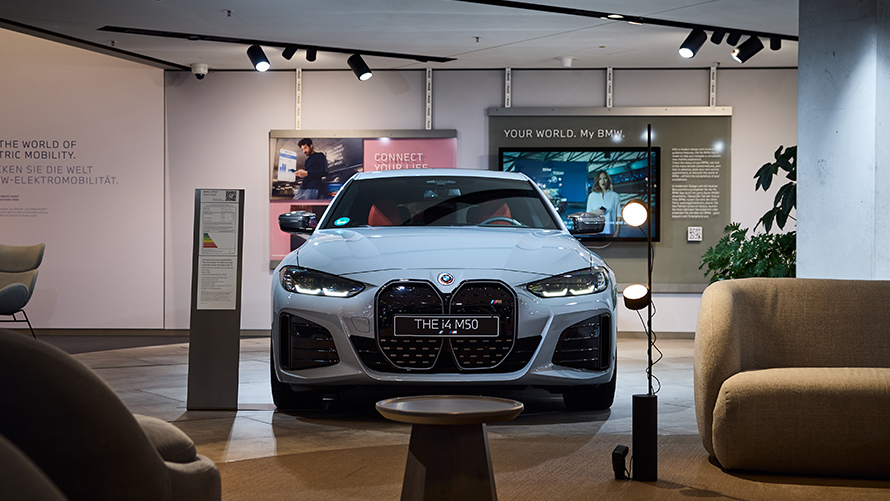 THE BMW iX3.
A quick recharge time as well as a considerable range - just a few of the positive features with which the sporty BMW iX3 can impress you. Another highlight is its quick charging time. In 10 minutes you will have recharged up to 100 km range at high-power charging stations! Let yourself be switched on by the one-of-a-kind flair and new aerodynamic style of the standard M Sport package.
THE BMW iX.
THE BMW GROUP PLANT MUNICH.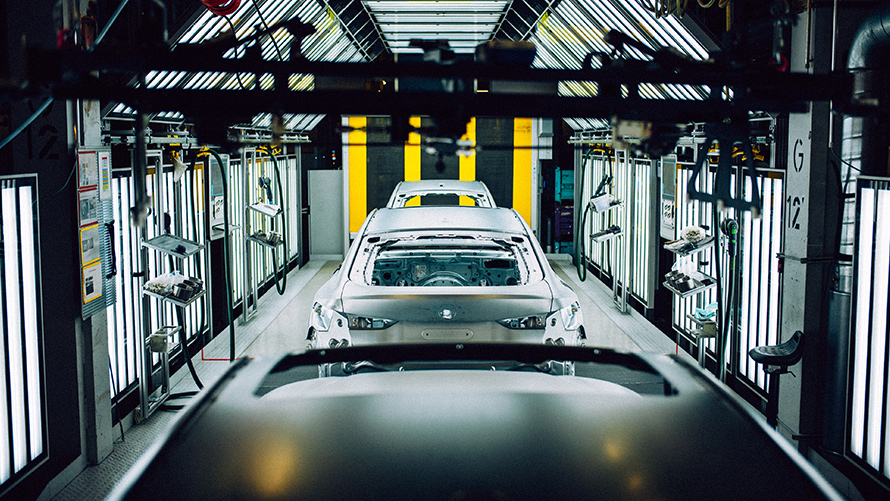 The first BMW i4 produced as part of a series left the BMW Group plant in Munich in October 2021. in its electric power system and high-voltage battery principally, this vehicle differentiates itself from conventional architecture. That being said, about 90 percent of the existing production facilities in the Munich body shop could also be utilised for the BMW i4.
​
Power consumption and electric range
BMW i4 M50: Power consumption in kWh/100 km: - (NEFZ) / 22,5-18,1 (WLTP); Electric range in km (WLTP): 414-519

BMW iX3: Power consumption in kWh/100 km (combined): - (NEFZ) / 18,9-18,5 (WLTP); Electric range in km (WLTP): 453-461

BMW iX xDrive50: Power consumption in kWh/100 km: - (NEFZ) / 21,2-19,5 (WLTP); Electric range in km (WLTP): 590-633

Official data on fuel consumption, CO2 emissions, electric consumption and electric range were determined in accordance with the mandatory measurement procedure and comply with Regulation (EU) 715/2007 valid at the time of type approval.In case of a range, figures in the NEDC take into account differences in the selected wheel and tire size; figures in the WLTP take into account any optional equipment.

WLTP values are used for assessing taxes and other vehicle-related charges that are (also) based on CO2 emissions, as well as for the purposes of vehicle-specific subsidies, if applicable. Where applicable, the NEDC values listed were calculated based on the new WLTP measurement procedure and then converted back to the NEDC measurement procedure for comparability reasons. For vehicles type-approved after 01.01.2021 only WLTP values officially exist. For more information on the WLTP and NEDC measurement procedures, see www.bmw.de/wltp.

For more information on the official fuel consumption and official specific CO2 emissions of new passenger cars, see the 'Guide to Fuel ConsumptionCO2 Emissions, and Electricity Consumption of New Passenger Cars', which is available free of charge at all sales outlets, from Deutsche Automobil Treuhand GmbH (DAT), Hellmuth-Hirth-Str. 1, 73760 Ostfildern-Scharnhausen, and at https://www.dat.de/co2/.